Is your puppy wreaking havoc on your life?  Don't know what to do about those shark teeth? Are your children not having fun with the puppy yet?  Is your puppy shreaking in the crate all the time and can't be left alone for a minute? Fearful of everyone and everything? 
Whether  this  is  your  first  puppy  as  an  adult  or  as  a   family  or  you've  had  several dogs  over  several decades,   you're  in  the  right  place.  The Puppy Foundation Program  is comprehensive and focuses first and foremost on puppy and dog behavior education.  It begins  with  you attending  an educational  seminar  before  coming  into  the  classroom  with  your  puppy  and, if you like, a private lesson in your home.  One or both of these options are followed  by  not  just  one  indoor  group  class  but  several  sequential  classes,  including  outdoor  classes,  designed  to  help you  prevent  problems  before   they   start.  You  will continue  learning  along  with  your   puppy  for the  first  year  or  more   as   your  puppy   becomes   the  well-adjusted,  well-behaved  dog  you  envisioned  when  you  decided  to bring  a  dog   into   your   life.
Begin Laying a Solid Foundation with Your Puppy Today!
Puppy Head Start Seminar
Come to this 1.5 hour for-people-only educational seminar to learn what you need to know to make the most of your puppy's early learning opportunities.  In this leave your puppy at home session, you'll learn about dog body language and communication as well as how your puppy likely perceives what you're saying with your body language; how dogs learn so that you'll understand why your dog does not 'listen' to you; and how to structure everyday life with your puppy so to bring out the best in your soon-to-be dog!
Next Seminar:
Sunday, February 4th
5:30-7:00 pm
Location:
No Bones About It
1786 Beacon Street
Brookline, MA
Fee: $75
Puppy Jump Start Lesson
Do you prefer one-on-one attention? Want to be sure you have everything set up correctly? Does your puppy get car sick? Do you have more than a few people involved in the care and training of your puppy and want to get everyone on the same page? Is your puppy struggling with crate training? It's best to address issues early so not to allow a reinforcement history to really take hold. Consider a 75 minute private lesson —
In Your Home — in Brookline, Brighton, Jamacia Plain, Roslindale, West Roxbury, Cambridge, Somerville, Watertown, Belmont, Arlington, Waltham,  Weston, Needham or Wellesley.
To schedule a session, contact me here.
Fee: $150
Puppy Foundation 1
This puppy socialization and basic puppy obedience training class is for puppies between the ages of 8 and 16 weeks at the beginning of class. These one hour once weekly sessions focus on the critical issues of puppy development– socialization, housetraining, handling, nipping, chewing and crate and alone training. Brief play sessions will teach you what is appropriate play and how to interrupt and redirect inappropriate behavior. You will learn how to teach and apply  the foundation behaviors of sit, down, stand, drop, touch and will begin training loose  leash walking, stay and coming when called.
Fee $210
Current Class: 10-10:55am  Sun, Jan 21, 28, Feb 4, 11, 18, 25

Next Class:   10-10:55am Sun,  Mar 4, 11, 18, 25, April 1, 8
 Next Class: 10:00-10:55 Sun,  April 15, 22, 29, May  6, 13, 20
Puppy Foundation 2
This class is a continuation of Puppy Foundation 1 and a good class to start with for puppies over 16 weeks of age regardless of whether they have attended a puppy socialization class. This is also a good first class for rescue dogs under 8 months of age. Brief play sessions will teach you what is appropriate play and how to interrupt and redirect inappropriate behavior. Emphasis will be placed on behavior problem prevention and working through distractions. We will continue work on stays, recalls, loose leash walking and more. Weather permitting, some classes will take place on nearby streets.
Fee $210
Current Class:   9-9:55am Sun, Jan 21, 28, Feb 4, 11, 18, 25
Next Class :  9-9:55am  Sun, Mar 4, 11, 18, 25, April 1, 8
Next Class :  9-9:55am  Sun, April 15, 22, 29, May 6, 13, 20
Puppy Foundation 3

Take training on the road to prevent the problems that so many dog owners encounter. This real world dog training class will help you  in applying training in your everyday activities including walks and time at parks and in other open spaces. We will meet in different locations each week including your neighborhood. Since the class is outdoors and therefore, weather permitting, some flexibility on your part is necessary. 
Fee $210
Next Class:  4:00-5:00pm Sun,  Jan 21, 28, Mar 4, 11, 18, 25

All Sunday classes take place at No Bones About It at 1786 Beacon Street in Brookline.  Parking is free on Sundays.
Classes meet for one hour per week for six consecutive weeks.  Makeups are not allowed without prior arrangement.
Children are encouraged to attend and observe. Children must be accompanied by an adult who will be the primary handler of the puppy.
Register using Paypal below to secure a spot in class. If you prefer to pay using a check or cash, you can register by sending an email to Vera@CooperativeDog.com and bring payment with you to the first class.
What To Bring To Class:
Bring your puppy or dog on a six foot nylon or leather leash wearing a flat ID collar as well as the harness or head halter if you are using one of these tools already.
Plenty of puppy or dog food and treats already cut into tiny pieces. Consider feeding breakfast during class.
Proof of vaccinations from your breeder, rescue group and/or veterinarian.
*No Flexi Leads or Chain Leashes Allowed.
"Before adopting our Bernese Mountain Dog puppy, we searched the Boston area for an appropriate trainer. After a long phone conversation with Vera, I was certain that she would be a good fit for our family. The day that 8 week old "Ueli" arrived at our home, Vera visited and advised on the best strategies for raising our puppy, considering our spatial limitations and busy family dynamics. After this visit, we participated in Vera's puppy foundation program for most of Ueli's first year.
Though this was not my first large breed dog, or working dog, I learned a great deal from Vera immediately. She is perceptive, thoughtful and intellectually rigorous. Her approach prioritizes forming a bond of communication between pet and family, not just blind obedience, punishing and treating. Her teaching helped hone my observational and listening skills so that I can deliver the lesson that Ueli needs in order to understand. This teaching has helped me to grow as a dog owner, but also as a human being. Recently, Ueli passed is Therapy Dog Certification Evaluation. It was a difficult test, but we rose to the challenge. The evaluator pulled me aside and told me that Ueli's performance was "incredible" given that he is under 18 months old. I believe that it was our start with Vera that made this possible.
I recommend Vera and her puppy foundation program to anyone who wants to deepen their relationship with their dog, while developing a well-balanced, well-behaved, canine community member.
Sincerely,
Edward Monovich
Belmont, MA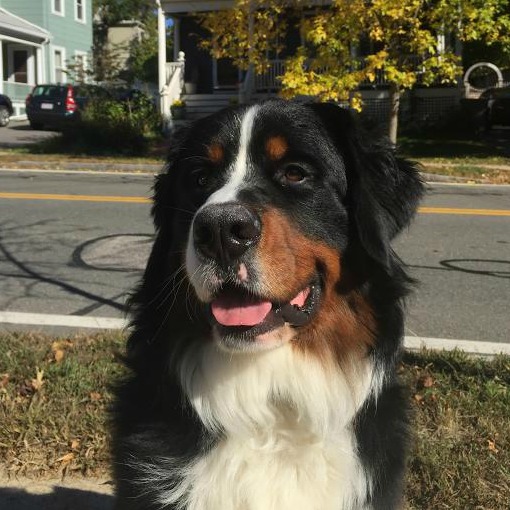 "We came to Vera with our brand new 12-week old feisty and energetic lab pup in hopes of having a loving companion to grow with. We are a couple hoping to have children in the next few years, so it is very important for us to have trust that our dog will listen and follow instructions so everyone is happy and safe . Vera's motto of training in a practical manner for everday living was EXACTLY what we were looking for. When we hit a bump in the road, Vera gives us several tips and tricks to navigate around it. We are constantly complimented on how well-behaved and smart Otis is for being so young. We have now enrolled in 3 classes, enjoying every one, and we continue to learn and grow alongside Otis and cannot thank Vera enough for it."
Pat, Andrea and Otis
Waltham, MA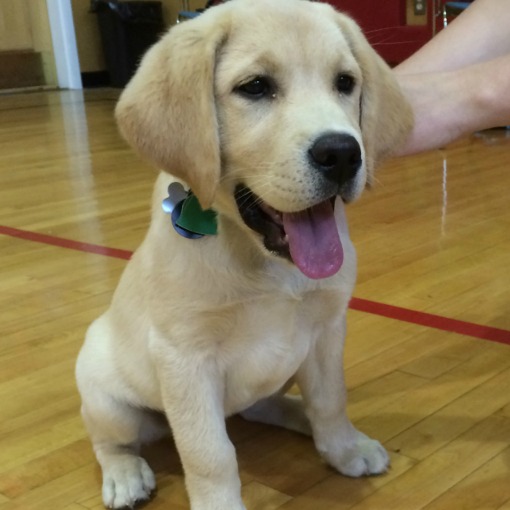 "When we first got Sapphire, we were a little worried about how to train her because she was deaf and had never even been outside. When we tried to walk her, or communicate with her, she struggled to communicate back or even understand us.
Our vet recommended Vera. The first time we met her we explained our situation. She took Sapphire's leash in her hand and Sapphire immediately started walking with her! It was so rewarding to work with someone with such great knowledge of deaf dogs, not only owning her own, but working with them for many years. She was a breathe of fresh air, and gave us hope that Sapphire could learn and be trained.
Before leaving Boston, Sapphire had learned how to sit, lie down, stay, walk, come, socialize with other dogs and play outside without any difficulties. We loved the way Vera interacted with her, and we would recommend her to anyone with any type of dog, hearing abled or not!"
-Gabriela Cohen & Matt Cote, Proud Owners of Sapphire