Get one-on-one training help to enjoy your dog more in private lessons OR a comprehensive dog behavior consultation for help in dealing with fear, anxiety, reactivity and aggression.
Individual training and consulting services are available on-site in Brookline at 1786 Beacon Street only on Sunday afternoons, in your home and neighborhood and online via Skype or Facetime. See below for rates and more information.
Private Lessons
With private lessons, you decide what you want to work on with your puppy or dog. A typical private lesson series involves teaching you how to train and apply training in specific situations encountered in daily life. We can address specific issues that get in the way of really enjoying your dog OR launch a complete training program that includes basic to advanced family dog obedience.
Here's an Incomplete List of Behaviors Addressed in Private Lessons
Jumping on people on the street or on visitors to your home
Pulling you here, there and everywhere on leash
Barking at everything and everyone
Not reliably coming when called
Stealing food/Counter surfing
Bolting out the door
Chewing/Destructive Behavior
Crate Training or Retraining
Preparing for the arrival of a baby
Resolving conflicts between cats and dogs and other animals
Basic to advanced obedience
Behavior modification – separation distress, resource guarding, etc.
Private Lesson Rates & Locations
You come to work with me at No Bones About It at 1786 Beacon Street in Brookline:
One Hour Lesson: $100
Two One-Hour Lessons $195
Three One-Hour Lessons $290
I travel to work with you in your home in and around Boston & Greater Boston:
One Hour Lesson: $135
Two One-Hour Lessons $265
Three One-Hour Lessons $395
We meet online via Skype or Facetme:
One Hour Lesson: $85 per hour
Two One-Hour Lessons $165
Three One-Hour Lessons $250
"I've known Vera for over 20 years. We first met as neighbors walking our dogs in Coolidge Corner. She sensed a small problem I was having with my dog and came up with a solution instantly. Since then I've had 3 other dogs and Vera has helped me with various training issues with all of them. She matched me with current dog, Aggie, pictured here.
I've seen Vera work with other people and other dogs, and she is an intuitive genius. Her ability to read and communicate with dogs is astounding. Vera is kind and considerate and a true advocate for dogs and people.
I strongly recommend that you call Vera for help with your dog. Whether you decide to work with her privately or in one of her many classes, you can trust that Vera will be able to help you and your dog(s)!"
Howard Block
Jamaica Plain, MA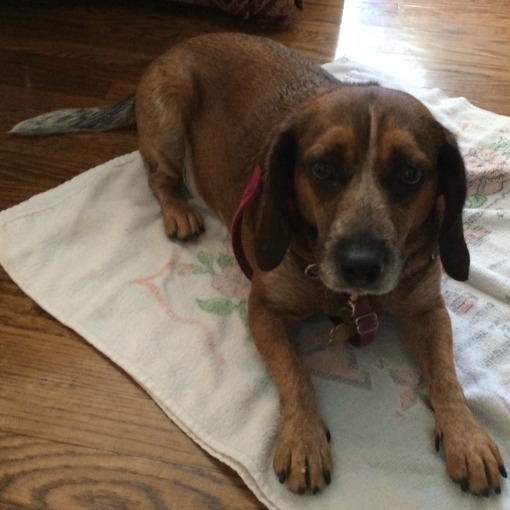 "Vera has helped our whole family to work more effectively and joyfully with Maisie, our sweet cocker/cavalier cross. Maisie had come to us as a young dog with some undesirable habits, and after an initial series of classes with another trainer, our progress with her had stalled. After the first lesson with Vera and her dog, Hawk, we felt both relief and rising optimism that together we could help Maisie to stop pulling when on the leash and to be less reactive to other dogs when out walking.
Two things we did not anticipate was that Vera would skillfully bring our eight-year-old granddaughter into the process of training Maisie. It was a delight to watch Vera teach our granddaughter how to work with Maisie, harnessing the energy and enthusiasm of the young dog and the young girl in happy synergy. The second thing I had not expected was that Maisie herself would become a happier dog.
Vera's positive attitude and upbeat approach cannot help but rub off on those she is teaching. We highly recommend Vera's approach for both children and adults."
Anne Stuart & Family
Belmont, MA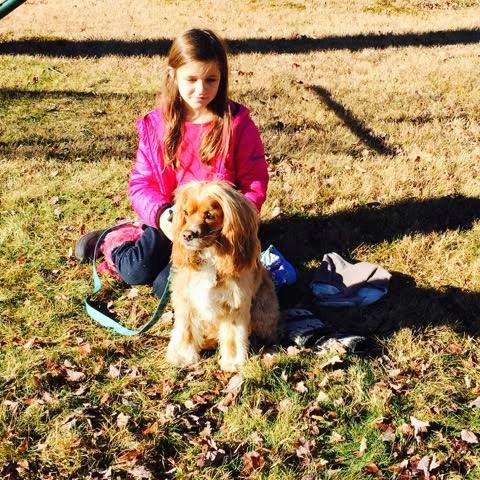 "When we got Oliver, we didn't know where to go or what to do. Ollie, as a rescue dog from the south, was nervous about people and dogs and things. This made getting out of our building and going for walks unpredictable. Vera came to our condo for a few private lessons and we took two classes in Brookline. Vera keeps her classes intentionally small so she can help families with challenging dogs learn how to work through real life situations. We've had several stressful situations – veterinary appointments and visitors – and Vera has always been just a text message or phone call away and provided us with a plan so that Ollie can get through these with success and without incident. It was a ton of work for us but Ollie can now walk down the street without fear, he has many new friends (dogs and even a few humans!) and our quality of life has improved as a family.
Vera's training and methods have opened up more possibilities for Ollie to expand his world and we couldn't be more grateful to her. We are so proud of our boy and look forward to continuing to celebrate his milestones!
Thank you again!"
Sarah, Brandon and Oliver
Boston, MA