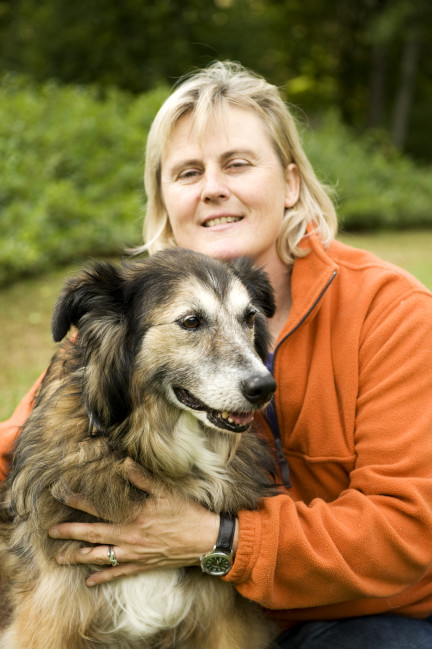 The Cooperative Dog is me, Vera Wilkinson CDBC, CPDT-KA, KPA CTP. Dog training & behavior consulting is not just my full-time work, it is my life's work. Since 1996, I've spent thousands of hours with dogs and their people teaching private lessons, group classes, dog behavior education seminars and consulting privately on dog behavior problems throughout Boston, Greater Boston and all over Eastern Massachusetts. My primary focus is on education and helping people to bring out the very best in their dog(s) by providing practical training for everyday life.
Szap, my heart dog and the original cooperative dog, led me to my life's work. After taking several classes and volunteering as an assistant trainer at Angell MSPCA in Boston in 1995, Szap and I went on to explore the broader world of dog training. He loved working as much as I did. We took one class after another in obedience, sheepherding, agility, tracking and more. I accomplished what I set out to–- to experience dog training methods new and old, first-hand. I settled with what I started with as my preferred base- positive, humane, science-based dog training. In the years since I've tweaked things and made it my own 'method'.
Hawk is with me now. She's a deaf border collie x akita (at least, that's what I call her!) born in Georgia on March 22, 2011. She came to me at five months of age and had already been in several different homes/foster homes before it was realized that she was deaf. She, like me, is a work in progress. I'm learning a great deal from her as well and you can see her growth and experiences on Facebook,Twitter, Instagram and her own blog.
Why Choose Me
I hold several certifications and licenses and belong to several professional organizations in the field of dog training and behavior consulting. Continuing my education is not only my professional obligation but a personal top priority. I regularly attend conferences and seminars and take online courses and webinars.
Certifications and Licenses:
CDBC (Certified Dog Behavior Consultant)
CPDT-KA (Certified Professional Dog Trainer)
KPA CTP (Karen Pryor Academy Certified Training Partner)
Licensed Dogs & Storks Presenter (Dogs & Storks)
Licensed Dog & Toddlers Presenter (Dog & Toddlers)
Be A Tree Presenter (Dog Gone Safe)
Affiliations and Memberships:
International Association of Animal Behavior Consultants(IAABC)
Certification Council of Professional Dog Trainers(CCPDT)
Association of Professional Dog Trainers (APDT)
Awards:
2014 Boston's A-List Top Five Finish Best of Boston 'Best Dog Training'
2013 Boston's A-List Top Five Finish Best of Boston 'Best Dog Training'
2012 Boston's A-List Top Five Finish Best of Boston 'Best Dog Training'
2011 Best of Boston 'Best Dog Trainer' by Boston magazine
2011 Boston's A-List 2nd place Best of Boston 'Best Dog Training'
2010 Boston's A-List 2nd Place Best of Boston 'Best Dog Training'
2010 Beantown Tails' Readers Choice Award 'Best Agility Instructor'
2009 IAABC Dog Division 'Member of the Year' Award
Past Positions:
2008-2011 Dog Division Chair of the International Association of Animal Behavior Consultants (IAABC)
2009-2011 Application Review Committee Co-Chair of the International Association of Animal Behavior Consultants (IAABC)
2009 Education Committee of the International Association of Animal Behavior Consultants (IAABC)
2007 Strategic Task Force Committee of the International Association of Animal Behavior Consultants (IAABC)
Seminars, Conferences, Online Courses:
Growl Class – A Workshop Demo For Reactive Dogs with Dr Ian Dunbar (2016)
Bridging The Gap with Sarah Fulcher & Chad Mackin (2015)
Pack To Basics Advanced Socialization Workshop with Chad Mackin (2015)
IAABC  Tufts-Cummings Vet Conference [Online] (2014)
IAABC Behavior Symposium in Rhode Island (2013)
Clicker Expo CT (2013)
Tag Teach Online Course (2012)
IAABC Conference in Rhode Island (2012)
IAABC Conference in Rhode Island (2011)
Intro to Odor Seminar with Amy Herot and Jill Marie O'Brien (2010)
Intro to K9 Nose Work Seminar with Amy Herot and Jill Marie O'Brien (2010)
IAABC Conference in Rhode Island (2010)
Nose Work Seminar with Scott Williams (2010)
Behavior, Medicine & Training with Nicholas Dodman and Ian Dunbar (2009)
IAABC Conference in Houston, TX (2009)
Canine Aggression with John Rogerson (2008)
Puppy Development with John Rogerson (2008)
Relationship Based Training: Practical  Skills  & Building Blocks with Suzanne Clothier (2007)
If Dogs Could Speak, Understanding & Improving the Dog/Human Relationship with Suzanne Clothier (2007)
Understanding & Handling Aggression with Suzanne Clothier (2007)
Obedience Without Conflict with Ivan Balabanov (2006)
Dog-Dog Aggression with Sue Sternberg (2006)
Assess-A-Hand Temperament Testing with Sue Sternberg (2006)
Clicker Expo in Newport, RI (2006)
Aggression Uncovered with Pia Silvani (2005)
Calming Signals with Turid Rugaas (2004)
Theory on Search Work & Tracking with Ann Lill Kvam (2004)
Howls & Growls with Suzanne Clothier (2004)
Canine Play & Aggression with Jean Donaldson (2003)
Tufts 2nd Animal Expo (2002)
Agility with Brenda Buja (2001)
APDT Annual Conference in Houston (2000)
Tufts Veterinary School 'Canine Symposium' Clicker Training   (1999)
Tufts Veterinary School 'Canine Symposium' Behavior Panel   (1998)
Sheepherding Clinic in Brewster, NY (1997)
Tufts Veterinary School 'Canine Symposium' Breeding & Nutrition (1996)